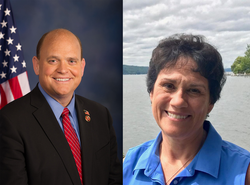 Reed outraises Mitrano in early campaigning, but less than last cycle
ITHACA, N.Y. — The election may be more than a year away, but campaigning for New York's 23rd Congressional seat is well underway. Republican Congressman Tom Reed has raised about 15 times that of returning Democratic candidate, Tracy Mitrano, in the first three months of 2019, but his campaign has raised less than at the same point in the 2017-18 election cycle.
Read the full story HERE.
Or download a PDF.