Top 10 Stories of 2017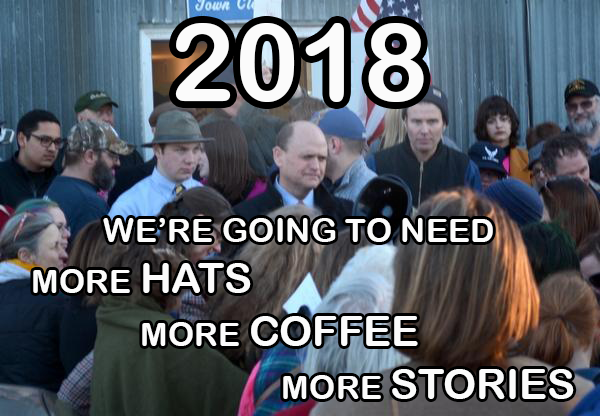 The latest trip around the sun was my first full year as a practicing reporter. Often, when I've recounted on my ventures over the last year lately, other meet my stories with claims along the lines of, "well hey, I guess now's one hell of a time to be a reporter." In 2017, I'd reason to believe that we've found a renewed invigoration in public discourse, which inevitably bleeds through newsprint and blares through television sets. While the headlines have often seemed bleak against the backdrop of a nation and world plagued with divisiveness, ineptitude and belittlement- I see hope.  In the last year I've been deep on many sides of political and moral lines- far beyond where prejudice can hide. I've talked to Bernie supporters, Trump supporters, democrats, progressives, republicans, independents, anarchists- none were beyond reason. I don't hold everyone to that absolute, but if there's one thing I've found- it's that friendliness and compassion go a long way.
Oh, but if that rant wasn't enough, I've created my Top 10 list of stories I've covered in calendar year 2017. I've only included those that made print or hit a screen. Twitter coverage, radio newscasts and stories that died (some of which are my favorite) have been excluded. In totality, I've accumulated; at least 250 radio newscasts on 91.7 WICB, 62 print bylines, including 23 columns; three cover stories for The Ithaca Times; six episodes of ICTV Reports- ICTV's longform news magazine show (three as producer, three as senior associate producer); and hundreds- if not thousands- of cups of coffee coursing through my veins.
I thank everyone for their help and wisdom (you know who you are) and I look forward to working with you in 2018.
---
#10– Branford Marsalis Interview
Since November of 2016, I had known world-renowned saxophonist, Branford Marsalis, was coming to Ithaca. His performance at the State Theater was scheduled a few days before I was to return from winter break in January. For weeks and weeks I had tried getting in contact with this publicists with no avail. When the week of the concert rolled around I made lucky contact with a PR rep who gave me a "definite maybe," that Marsalis would be able to do the interview.
With full common sense in tact, I packed up my things, hopped in my car and made my way back to Ithaca with a full four or five days left of break. Luckily, things panned out and I was able to snag Marsalis for 30 minutes the morning of the show.
I started playing saxophone myself in fourth grade. Among my CD's of Thelonious Monk, Sonny Rollins was one Branford Marsalis'. While I don't see myself covering an entertainment beat anytime soon (the interview certainly isn't my favorite) it was a moment of awe sitting across from someone whom I'd been listening to for almost half my life.
---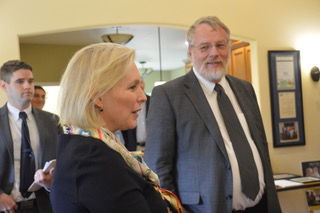 This story sure as hell didn't drain ink supplies across New York- and that's part of why I remember it so keenly.
Ask me now and I couldn't give you any good reasons to make the two-hour drive from Ithaca to Wellsville on my day off. However, on that bright sunny day this June, I got the notion that driving all that was worth covering a press event with U.S. Senator Kirsten Gillibrand. It was a showboat tour of SUNY Alfred satellite two-year degree program. (Side Note- I'm not trying to demean that. The guys I met there are doing some really awesome work and most of them will have jobs in two years that double my pay after four.)
When I completed my journey, I was expected a pretty hefty press presence. I think I even planned on arriving earlier so I could mingle with some other reporters. However, I was the only reporter there until another local guy from Wellsville arrived at the last second. Since then its been a reminder to me of how few stalwarts we have left in the reporting trade. Of all the country Newsrooms between Ithaca and Buffalo, only one could afford to dispatch a reporter to get face time with a U.S. Senator.
That experience has led me to think deeper about the trends of local media outlets- especially funding models and how they affect readership. Also, what effects these small media outlets- or the lack thereof- in mainly rural areas like upstate New York have on how consumers view national media as well. The whole Gillibrand story was garbage, but the two hours of thinking I did on the return trip was worth it looking back.
---
#8– The Dryden Flood
I arrived at the Dryden Village Board meeting expecting much of the same old beat reporting gig, but I knew something was up when people started arriving for public comment. Though Dryden is only a quick 10-minute drive out of Ithaca, a band of torrential rain- on top of an already rainy summer- overflowed small creeks and overwhelmed drainage systems causing sever damage to a number of homes. I popped out of the meeting and had a few of the residents affected take me through their homes. Some homeowners had a few thousand dollars worth of damages. I was the only reporter on this story.
---
Reed held a town hall event in Lindley as Republicans in the senate attempted to pass the American Healthcare Act. One of the most prevalent discussions was over the new healthcare plan. First and foremost- fact checking sucks. It's tedious beyond belief.
That being said, I'm fairly proud at how this one turned out. Working with Reed's office, I got and published a scanned copy of his exact health insurance plan, thus striking out the notion that members of congress weren't on the Obamacare exchanges.
---
#6– Seneca Army Depot
While driving across Seneca County (which happened way more than I thought it would this semester) one of the first things I took notice to was the miles and miles of fencing along Route 96. Upon a quick google search I discovered what was hidden inside.
The Seneca Army Depot housed one of the largest stockpiles of explosives and nuclear material on the east coast. It only took a few months to build hundreds of concrete "igloos" and infrastructure across the 16 square mile facility which stood from the breakout of the second world war until its haphazard shut down in 2000.
The facility, which was completely fenced off by the army, allowed a special recessive allele to select the captured deer population for white fur.
Shooting this story was one hell of a morning. In being a student journo- my timeline isn't under the jurisdiction of deadlines, but rather when I have to get to class. After pulling an all nighter, the whole team packed into my tiny Volvo sedan and made the hour long drive to arrive just before 8 a.m.. After going through a regular tour of the facility we hopped back in the Volvo (which is not, by any means, an off terrain vehicle) and took it off terrain to take an in-depth look at the depot. We were back before noon.
---
While working full-time for 
The Ithaca Times
 this summer, publisher, Jim Bulinski, thought it would be a worthwhile feature for a special section to cover some of the more notable Ithaca College alums and their time in Ithaca. Also, it helps that one of them sent Jim a copy of his book.
Regardless, I was tasked with the feature. Bill Diehl- former ABC Radio Chief Entertainment Correspondent- had already reached out (with the book), so he was an easy get. After spending over an hour on the phone and pinging a number of emails back and forth we've developed a great relationship. We still communicate regularly. I'll send him some air checks and he'll send me some of the morgue bits he still produces on stars like Jerry Lewis and Hugh Hefner.
The other alum the publisher thought I should reach out to was (shockingly) Mr. David Muir- anchor of ABC World News. After a few weeks of harassing his publicist (sorry Van) and a little help from my friends at ABC, I was able to book him for a 10-minute call. It was a pretty surreal moment as a fledgling young neophyte reporter.
The last one was Adam Ellick, a Pullitzer winning New York Times videographer. We were able to work out the piece through a string of emails back and forth. During that time we also had fun mocking a particular Park School professor's allegiance to the Raiders.
While the piece turned out perfectly fine, it was some of these conversations that were incredibly interesting. Ellick discussed his pursuit of hard, investigative stories that often didn't make him the most popular guy around. His quote, "I was soon the rare journalist in the world who could say he's been threatened by Ithaca College athletes and the Taliban," was one of my favorite things I've put in print this year. Muir remarked about he never stopped "doing," at I.C., something I like take well to heart. Him and I also joked about his early 90's newscasts (his hair has come a long way). Diehl and I laughed about the antics of being part time radio DJ's. We both agreed we should stick to newscasting.
---
#4– New York State Police Dive Team
While brainstorming feature ideas during the summer, I set the roots for what would turn into one of my favorite TV pieces of the year. The original idea was to highlight boating law enforcement on the finger lakes during peak summer holidays like Independence Day and Labor Day. Eventually, other stories took precedence, but I still kept this one on the back burner. So one day, I said "why not," and put a call into the New York State Police PR office who said we would be able to film the divers training in Alexandria Bay in ten days. Without hesitation, I said we'd do it. I didn't have a correspondent, access to equipment, the show didn't have a contract and the shoot was a three-hour drive.
Somehow it worked out. To make sure things moved according to plan I made the drive up to Alexandria Bay and got the ball rolling. It was a three-hour drive all the way to the Canadian border. I left Ithaca at 3 a.m.. I was back for my first class at noon. No student journo ever gets to complain ever again.
---
Saturday, April 8. I had just left NYC after the Society of Professional Journalists region conference and opted to drive back to Ithaca that night instead of staying at a friend's as planned. I made it back to Ithaca around 1 a.m. and collapsed exhausted. About 15 minutes later, I got a call to get into the newsroom that someone had been shot on the Ithaca Commons. We worked the phones got a team in the field and taped a reader in studio the following morning and cut a package Sunday night. Breaking situations have always been part of the riveting atmosphere I love about this craft. The 48 hours with only an hour's sleep that came with it are only bragging material now!
---
#2– Congressional Candidate Profiles
In early May, I'd started to receive word about several different individuals across the congressional district seriously considering campaigning against republican incumbent, Tom Reed, in 2018. The timeline for those campaigns was still a long way off, but I felt a need to start reporting on the large field and set a precedent of coverage for the race.
At first there were six candidates, then seven, then eight now a total of eleven people vying for the seat. Getting in on the beat early has been a full immersion in the political campaign process and I've developed a professional rapport with veteran political figures to newcomers spurred by the election of 2016.
The coverage on the race has only continued and I look forward to being on the front lines as the pace picks up through the primary in June and general election in November. That being said, please don't ask me if I'm related to Ian Golden.
---
If it hasn't been evident yet, I did some crazy stuff for stories in 2017. For this one in particular, I had to drive five hours from Reading, PA to make it to Randolph, NY by 10 a.m. for a straw poll hosted by the the of the western democratic committees in the 23rd congressional district. I drove all across Pennsylvania through State College and Bradford before I made it just in time. Oh, I hadn't had an outlet for the piece at the time either, but luckily I got that squared away 
after 
arriving. I got a good portion of the story together at the event, but the majority of it was written at the McDonalds on the Seneca Native American reservation just off of I-86. I packed it up and shipped it off, but still had a three-hour drive ahead of me back to Ithaca. When I made it to around Bath, NY I saw an email come in from the editor who said he still didn't get the piece. I pulled out my laptop and resent the story while still on I-86.
It's this typical day in the office that I've come to know and love in 2017 and I can't wait to welcome more in 2018 and the years ahead.
---